When you need help - stat! Catalyst Health Solutions works with physicians, surgeons, specialists, and health care administration to offer alternative options for patients in Newfoundland and Labrador.

Get in touch with Catalyst to discuss how we can help your patients access alternate delivery options, to collaborate on patient care, or to cooperate or consult on innovative approaches to health.
Critical Care Trained Registered Nurse Assessments
---
Do you have a patient receiving chemotherapy who has developed a fever? Do they feel otherwise well?
Our Critical Care Registered Nurses visit your patient, collect and run STAT bloodwork, and begin IV antibiotic treatment if they are determined to have febrile neutropenia.
Keep your patients out of the emergency department and prevent unnecessary hospital admissions with our critical care trained nurses.
For patients with private health insurance, this is a service that can often be reimbursed.
---
Blood Collection
---
Getting bloodwork needn't be a chore with Catalyst Health Solutions. No parking problems, no waiting - just a quick and painless experience at home, work, or even in your clinic!
Eastern Health provides Monday to Friday outpatient service for blood collection at The Health Sciences Centre, St. Clare's Mercy Hospital, The Waterford Hospital, and Major's Path Medical Clinic.
If you prefer not to park and wait at either of these clinics, we have several solutions available:
Drop in Clinics:
Monday 8:30-11:30, The Medicine Shoppe, 1489 Topsail Rd., Paradise

Tuesday 10:00-1:00, Winterholme Spa & Wellness Centre, 79 Rennie's Mill Rd.

Wednesday 8:30-11:30, The Medicine Shoppe, 1489 Topsail Rd., Paradise

Friday 10:00-1:00, Winterholme Spa & Wellness Centre, 79 Rennie's Mill Rd.

Would you prefer to have blood tests done in your own clinic, including from central access devices? We do that too. Get in touch and we'll schedule a visit.
---
Intravenous Treatment and Medications
---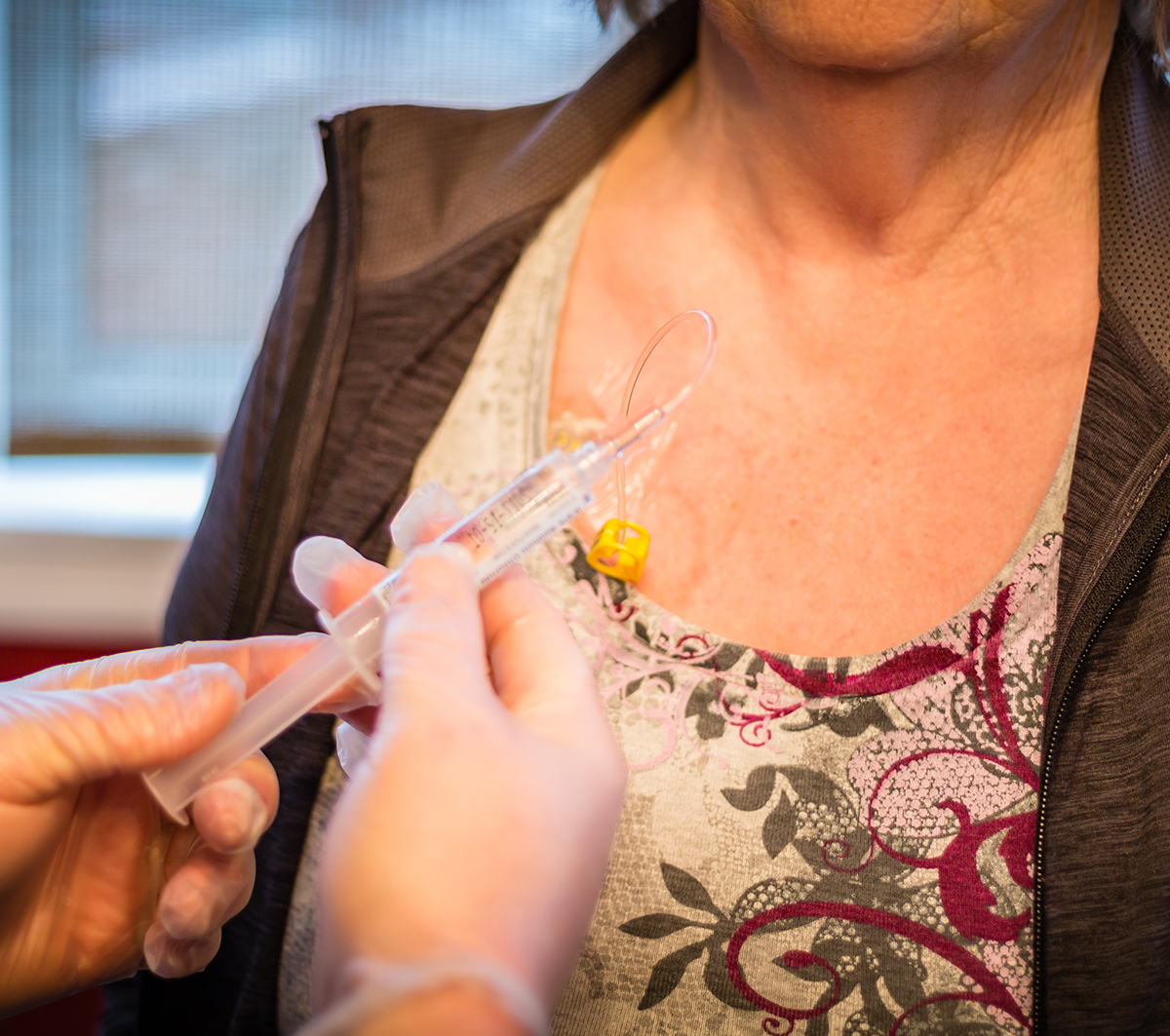 Are you comfortable prescribing IV antibiotics for minor ailments and would prefer to not send your patients to the ER? Do you have a pregnant mother with hyperemesis gravidarum who requires IV fluid replacement?
We can help! Catalyst Health Solutions gives you access to registered RNs, LPNs, and other health care providers 24-hours a day, seven days a week. You'll remain the primary care physician for your patients as they receive IV medications.
Contact us for pricing and arranging home IV treatment.
---
Patient Symptom Management
---
Do you have a patient undergoing chemotherapy? Are they experiencing debilitating nausea, vomiting, or pain? We can help.
With you as the primary care physician or nurse practitioner, we proudly offer private nursing care and treatments including IV fluids, electrolyte replacement, and symptom management medications.
Often called comfort care, our goal of symptom management is to treat the symptoms and side effects of a disease, treating not only the physical, but the psychological, social, and spiritual problems related to a disease or its treatment - improving access and convenience, and ultimately the quality of life for your patient.
---
---